Charlotte, North Carolina – The popular Flash game, Collider, is now available for the iPhone and the iPod Touch. Collider is an addictive strategy game featuring crisp graphics, a powerful physics engine, randomized music and a unique style of gameplay. The iPhone port has preserved and enhanced every aspect of the original game and offers more than twice as many levels.
Game designer, Dan Russell-Pinson, has created a lot of pre-release buzz for Collider through some unusual promotional techniques including a comical gameplay video entitled "Collider: Do You Have The Balls?", several "fake news" stories and photoshopped images of famous works of art modified to include the iconic positive and negative particle balls from the game.
See the video:
http://www.youtube.com/watch?v=V0R2WWfdtAA
The goal of Collider is to destroy all of the positive and negative particle balls on the screen. The player simply drags the available balls on the screen and then presses play to set them into motion. Players must navigate the particle balls through various obstacles such as pipes, gears, sensors, bombs, springboards, pendulums, seesaws and more to make them collide. An auto-save feature automatically saves game progress so players can suspend the game and continue playing where they left off at a later time.
Screenshot: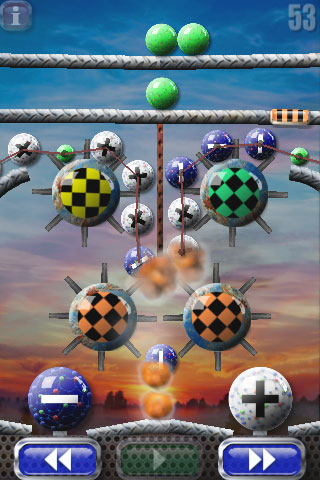 Collider Features:
* 56 unique and challenging levels
* Realistic physics
* Dynamically generated music
* Rewind and fast-forward controls
* Progress is saved automatically
* Option to play your own music
* Level select screen
* In-game tutorial
* Reset all levels button
* Hours of gameplay!
System Requirements:
* iPhone or iPod Touch 2.2.1 or later
Pricing and Availability:
The full version of Collider is available for the introductory price of $0.99 (USD). The game appears as "Collider the Game" in the iTunes App Store. A free version called "Collider Lite" is also available and allows players to play the first 11 levels.
Download Collider now:
http://bit.ly/cjaaio
PROMO CODES:
7XEW9MLREJM9
6K3HYPPT77AL