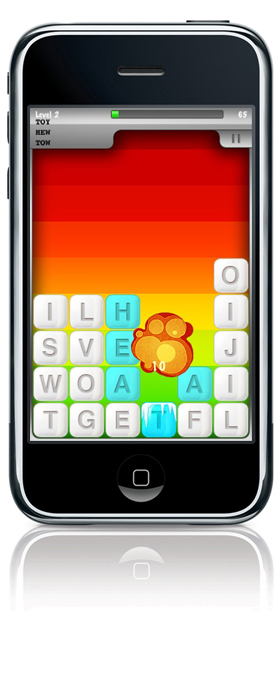 Developer:  Riverwatcher Studios
Description:
What do you get when you cross Tetris with Boggle? You get Text Tile, a fun word game that recognizes over 170,000 words based on the extended Scrabble word list.
Two Game Modes
Try to find words before the tiles fill up the screen in the Classic mode or play without time pressure in the Endless mode.
Flexible Game Control
You can spell words by tap-and-drag or by single-tap each letter.
Share and Compete
With Openfeint Leaderboard and Achievement support, you can brag about your vocabulary or challenge your friends to beat your score.
MANY CHALLENGES
Whether it is finding the longest word or completing various word categories, Text Tile has many rewards that will keep you challenged and entertained.
About Developer: Riverwatcher Studios is an agile person-driven studio with offices in Chicago and Beijing. We've created a few iPhone applications which you can download through iTunes.
Other Apps:  Elephant Rescue Free Elephant Rescue Full
Release Date: 4/19/2010
Name: Text Tile  ($1.99)
iTunes Link