Nexx Studio announces the release of The Stupid Test 5 for the iPhone, iPod Touch and iPad platform. The newly released app is the latest sequel to one of the most popular brain teasers game franchise on the Internet, having over 40 millions plays to date. It was since featured by Apple in New & Noteworthy of Entertainment category.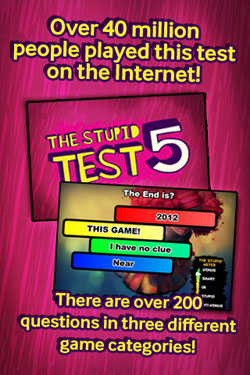 Following the success of Thase Idiot Test 3 on the App Store, Nexx Studio have formed a collaboration with the game makers at ZForce Games to deliver the popular brain teaser franchise to the Apple App Store. The trivia title features over 200 different questions in three seperate game category that test the player's knowledge in different ways and measures your intelligence through it's infamous "Stupidity Meter".
The Stupid Test 5 is the sixth series of the popular flash game franchise – The Stupid Test first released by ZForce Games 2007. It has since released 6 different sequel and each celebrated the same level of popularity till this date.
App Store URL:
http://itunes.apple.com/app/the-stupid-test-5/id371225115?mt=8